Logical Modeling Language for the Enterprise Data Warehouse.

In collaboration with Dan Linstedt, we have developed a visual modeling language that facilitates to represent a Data Vault model graphically: Visual Data Vault. It's a logical modeling language with which you can model hubs, links, satellites, and other Data Vault entities. All icons are standardized and easy to learn. A simple model can be depicted with a few symbols:
Dan Linstedt is using the modeling notation in his future training classes. To make this notation easily available to members of any Data Vault project team, we have developed a 2010+ stencil for Microsoft Visio. This can be requested via the form on this page. It can be used in projects free of charge.
Some manufacturers have already started using and supporting the symbols and forms in their respective tools. Therefore, we have provided all notation icons under an MIT license for free use. For manufacturers, we offer a "Vendor Support Package" which can be requested by sending an email to [email protected]
Please note: Dan Linstedt and Michael Olschimke have founded:
Building a Scalable Data Warehouse with Data Vault 2.0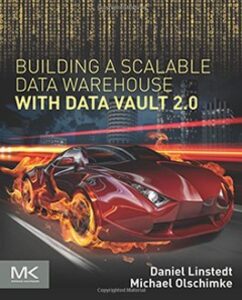 "The Data Vault was invented by Dan Linstedt at the U.S. Department of Defense, and the standard has been successfully applied to data warehousing projects at organizations of different sizes, from small to large-size corporations. Due to its simplified design, which is adapted from nature, the Data Vault 2.0 standard helps prevent typical data warehousing failures."
Source: Amazon
Download the Visio Stencil and Whitepaper

Copyright © 2010 – 2023. Provided by Michael Olschimke.
Imprint | Privacy Policy | DataVault.guru | DWH Wiki